| | |
| --- | --- |
| Past Events | |
Father Daughter Date Night
Friday, April 12, 2019
Dinner / Movie
---
Fundraising Night Out Gala
Saturday, March 30th 5:30 PM
LoneStar Convenction Center
---
Game Warden Hog Hunt
October 21th, 2018
Special thanks to Texas Game Warden Hendrick Volschenk
for taking him time out to hunt with WWK.
---
WWK Sporting Clays Tournament / Fundraiser
Thursday October 18th - 8am - 1pm
We had a gret time shooting Clays / Rasing Funds for WWK!
---
Calpine Charity Golf Tournament
Friday September 28
Woods & Water Kids was proud to be one of eleven charities across Texas chosen by
Calpine Energy to benefit from the proceeds raised at this years golf tournament.
Thank you Calpine for your belief in WWK
---
Dove Hunt Uvalde TX
Friday September 21
Great Time in the Field Shooting some Birds
---
August Events
Shooting Lessons - Sunday, August 26th
Intro Shotgun Lessons $10/person - We had a great time with 3 awesome families learning how to shoot some clays
---
Dove / Duck Tune-Up - Sunday, August 26th
6pm - 7pm - Intermediate / Advanced Shooters Only - Max 10 Shooters -$20 / Shooter -Hunting Scenario Stations setup to simulate a hunt
---
Mom & Dad Date Night - Friday, August 24th
Moms and Dads had a great time shooting their handguns at Saddle River Range
---
Daddy Daughter Night Out at Board & Brush
Thursday August 9th, 6PM
Dads we had a great time taking our daughters on a very special night out to Board & Brush Magnolia. Your daughter will never forget that you took the time to create a special wood project with her that she got to decorate. They supplied all the tools, paint, stencils and everything in between. Check out their website at Board & Brush.
---
Friday, July 27th - Mom & Dad Date Night
7:00pm - 9:00pm
Mom's and Dads had a great night of shooting pistols at
Saddle River Range followed by dinner at a fun restaurant.
Watch for this event again Next Month.
---
Thursday, July 12th Father / Daughter - Night Out
Dinner 6:00PM and a Movie at the new Xcsape Theatre on Old Conroe Rd and 1488
---
Hunters Ed & Hunting 101
Friday June 29th & Saturday June 30th
Friday 6pm to 10pm & Saturday 9am to 3pm at StoneBridge Church in The Woodlands.
Friday Night we focused on different types of hunting sports, gear, firearms and a whole lot more.
Learn all about different types of hunting sports: Deer / Hog / Duck / Dove / Quail / Pheasant / Where to hunt these types of game - on Private and Public Land and what types of Rifles / Shotguns - Where to buy, Costs and good investment vs. cheap buy
Saturday we focused on the skills and lessons needed to acquire Texas Hunters Education Certification.
---
Dad's Cook Out

Friday, June 15th

Dad's have a night of Cooking / Eating / Fun

---
WWK 6th Annual Fundraising Night Out
Saturday, May 19th
Lone Star Convention Center - 9055 Airport Rd. Conroe, TX
Raffles 5:30 PM Dining 6:30 PM
What a awesome night out for Dads/Moms and our Business Sponsors as we enjoyed a fun night out helping WWK raise the needed funds for kids without dads to get outdoors and for programs to build children closer to their fathers. Thank you to all who support this great event. The night includee - Dinner / Live and Silent Aucitons / Game Raffles and Bucket Raffles - To be a sponsor for this or any of our events send us an email to info@woodsandwaterkids.org or call 832-797-1854.
---
Shotgun Shooting Clinic
Sunday, May 6th
WWK certified Sporting Clays Instructor
teaches you and your child Techniques for Shooting
Weekend at Spread Oaks Ranch for Youth at Hopes Path
April 20-22

Hope's Path is a non-profit that uses a faith based community approach to direct foster youth towards confident sustainable independence.

WWK worked with a mentor for each youth to offer an outdoor experience that highlites, camping, fishing, archery, hunting, life skills and mentoring from TPWD Game Wardens/Biologist for life development and just fun outdoor experineces.
---
Shotgun Shooting Clinic
Sunday, April 15
Kids and Dad learned to shoot shotguns with WWK certified Sporting Clays Instructor
---
Chick-fil-A Night - Magnolia
Thursday, April 12th 5:30pm Magnolia
Great time shooting Archery, Fishing for Back Yard Bass, Mini Crossbows and Eating some CHIKIN
---
---
Private Fishing Event
Saturday, April 7th
Father & Son - James / Austin Bell Fishing for 1st time together
---
Shotgun Day
Sunday, March 25th
WWK certified Sporting Clays Instructor taught first time
shooters proper gun safety and techniques for shooting
This event was open to whole Family and we had a great time in the outdooors
---
WWK Quail Hunt 3/11/18
Sunday, March 11th - Quail Hunt -
We had a great time in the filed on Sunday hunting Quail and Pheasants.
Interested in hunting with WWK contact us about future events.
Quail Hunt with Mike Shuman and Quail Hunt Dime Box
Please call Mike to book your quail hunt and let him know you found him via WWK.
---
Father Daughter Campout 2018
March 2rd - 4th at Lake Livingston State Park
We had a great time with our daughters over the weekend, learning lots of cool facts about trees, animals, plants, invasive species in the park and geocaching with Ranger Joel.
Dads and daughters got away from cell phones, computers and the distrations of everyday life for 2 days of daddy daughter bonding around the camp fire, cooking outdoor meals, playing games and just spending one on one time together.
Join us on our next daddy daughter date night comming this summer - see the web sire at www.wwka.org/events.
---
Hunts
WWK knows that the field is the one of the best places for you and your child to grow closer together.
Growing a passion for the outdoors while growing kids and dads closer together.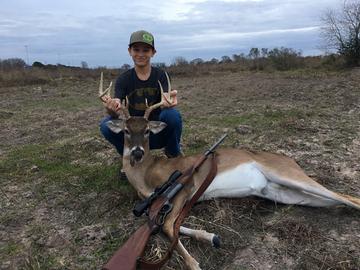 ---
WWK Sporting Clays Tournement / Fundraiser
Friday October 13th, 2017 - 8am - 1pm
Sporting Clays tournament / fudraiser was a big success.
Special thanks to our sponsors:
Allied Power Group - Emrald Transformers - Texas Compression - Calpine Energy - Rudy's BBQ & Ewdward Jones
---
Shooting Day at Blackwood Gun Club

Granddad and Grandson in God's Great Outdoors together

---
Private Event - Crossroads Bible Fellowship Church
WWK taught casting and archery and help feed and dsitribute free backpacks to over 350 kids and parents for a head start on the 2017 fall school year.
---
Father Son Colorado Adventure
Durango and Silverton Colorado - June 26 - July 3
Fishing, Day Hiking, Kayak Rafting, Movie Night, 4 Wheel Jeep Tour to 13,000 Feet
---
Sporting Clays Day at Blackwood Gun Club
Open to Mom, Dad and Kids
This is a public Facility - No lessons will be taught by WWK at this event. Ear/Eye Protection required
We will divide into family groups and shoot at our leisure at the new and improved Blackwood Gun Club (formally Conroe Shooting Centers on FM 2854) Check out their new website: http://www.blackwoodgunclub.com/
---
Shooting 101
Learn to shoot a shotgun - Open to whole Family
Learn the basics with a bb-gun and move on to shooting a stationary target with a shotgun
---
Intro to Sporting Clays Open to whole Family
Learn the basics or sharpen your skills on moving targets
Drinks/Firearms/Shells/Targets Included
Limited Registration to the first 10 Family Groups
---
Daddy Daughter Date Night
Saturday June 4th - Dinner and Movie at Star Cineama Grill Conroe TX
---
Shotgun/Trap Day - Sunday May 22nd, 2017
We had awesome weather and a great time shooting. If you missed this shoot make sure you register for next month.
---
Shotgun/Trap Day
We had awesome weather and a great time shooting. If you missed this shoot make sure you register for next month.
---
OKAD - Outdoor Kid Adventure Day
WWK hosted a private event for Crossover Bble Fellowship Church on Sunday March 20th.
We taught kids and parents how to shoot BB-Guns, Casting for Back Yard Bass, Mini Crossbow and Archery
Everyone had a blast learning new outdoor skills and enjoying frito chili pies and hotdogs!
---
Pheasant & Quail Hunt - February 2017
We had a great time with dads, grandpas and kids hunting quail and Pheasants in the outdoors.
Special thanks to Mike Shuman with Quail Hunts Dime Box for hosting our Quail Hunt
---
WWK hosted some great hunts from September 2016 to January 2017 for a wide variety of game.
Dove Season was not what we had hoped for as the Dove in our area did not show up for the hunts we hosted. We always come prepared and brought out the trap machines for kids and adults to have some fun shooting at the clay birds. We look forward to next season.
We also had 2 fantastic Duck hunts in January where several kids were able to harvest their first duck. These memories spent in the blind are life changing for our kids as they had the opportunity to see the sun rise and hear the sounds of wings flapping and ducks quacking on a beautiful setting in South Texas. Special thanks to Mr. Wiley, owner of Spread Oaks Ranch and his incredible staff, Tom and Cathy for their hospitality; hosting WWK at their awesome ranch.
For info on WWK hunts and to learn who qualifies, email Chris Parr at chris@wwka.org.
---

| | | |
| --- | --- | --- |
| | | |